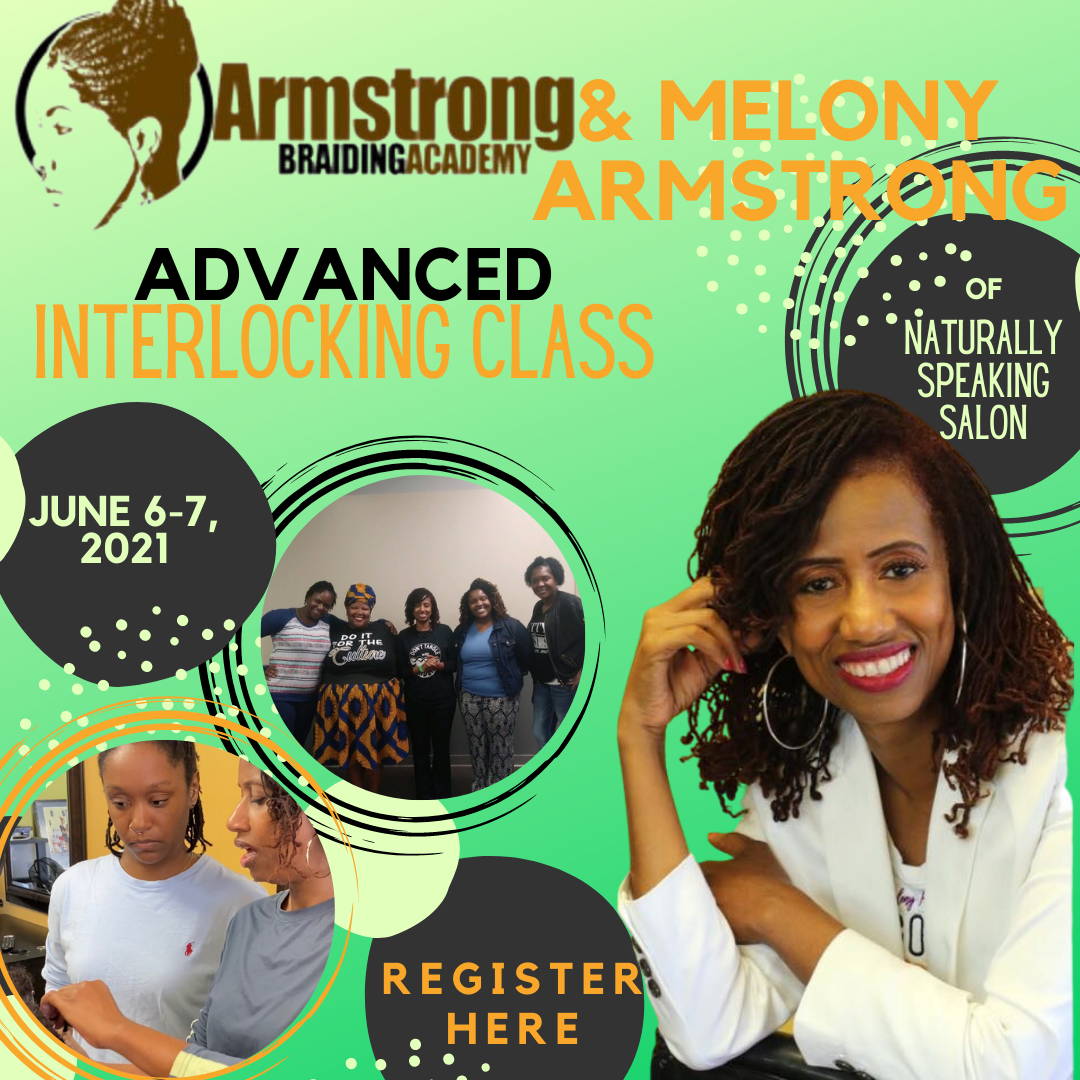 Advanced Interlocking Class
Learn how to loc hair with perfection. Melony Armstrong, Owner of Naturally Speaking Salon, will be teaching and hosting a class in Advanced Interlocking. Learn from the woman who broke Legislative Barriers to follow her dream and make way for other Professional Hair Braiders such as herself. If you are interested in natural hair, locs, and/or if you are a Hair Braider this is where you want to be.
This is class is a 2 day event, in which you will learn:
Loc Parting
Creation of strong, healthy, interlocs
Loc Maintenance
Proper Tool Selection & Technique
Loc Techniques for different textures
***You will have an opportunity to gain Interloc Certification through Armstrong Braiding Academy
Note: Class has a $200.00 Non-Refundable Deposit. You will receive all the tools you need including a Natural Hair Mannequin and Carrier Bag.
**Lunch will be on Monday.
It's been said, "if you give a man a fish, he'll eat for a day but if you teach a man to fish, he'll eat for a lifetime."
Everyday, Melony Armstrong demonstrates what it is to teach a man to fish through her natural hair care classes. Hundreds of low-income families are housed, clothed and fed not because she sought out government assistance for them, rather, because she demanded that the government get of her way so that she could provide for herself and her family and so that other women could do likewise. She is responsible for breaking down regulatory walls that prohibited anyone from practicing hair braiding without a cosmetology license in her state of MS. Since 2005, Melony has taught women all over the world braiding, locking, and natural hair care skills, with many of her students going on to open their own successful natural hair salons. Over 25 years of speaking and teaching across the globe, Melony has helped over 2 million women throughout the nation to become entrepreneurs in the natural hair care industry.as a result of the trail she blazed.
Her Salon, Naturally Speaking, is the first licensed hair braiding salon in the state of MS. She has traveled across the nation and abroad telling her story of a modern day David & Goliath...where small business woman takes on Big government and wins. She has appeared on, The Tom Joyner Morning Show, testified before Congress, she was featured in Essence, has 2 award winning documentaries, and her Movie "Freedom Hair" is scheduled to be released in 2021. Melony is committed to helping women discover their God given purpose and begin living their lives on purpose. Through her classes, Melony is committed to train, educate, and help those seeking entry into the multibillion dollar natural hair care industry. She continues to oversee Naturally Speaking Salon and Armstrong Braiding Academy, as well as speak, coach, write, inspire and motivate women everywhere around the world.